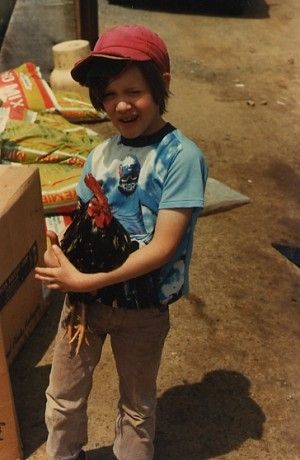 Jesse Lenat is a singer, songwriter and actor that lives in Brooklyn, New York. Jesse grew up in rural Pennsylvania the son of a cactus farmer. Since the age of 8 he has been making music with his brother David Lenat. Their first concert was given in a Geodesic dome in the woods at their Alma Mater The School in Rose Valley. In the early years it was AC/DC and Judas Priest but now Jesse's own original music is more in line with the classic American tradition of troubadours like Woody Guthrie. In the spirit of activism Jesse's song "99%" (along with Willie Nelson and many other Farm Aid Alumni) was inclduded in "Occupy This Album" which recently won the independent Music Award for Best Compilation.
     Jesse's first "role" in a film was given to him by chance at the tender age of 9 in the documentary "Wasn't That a Time" about the singing group The Weavers with whom Woody Guthrie was closely associated. Jesse was interviewed for the film outside of Carnegie Hall just before The Weavers 25th anniversery concert. Little did he know that 25 years later he would share the stage with Woody's son Arlo Guthrie at Farm Aid 2008. Ever since, those early formative years, he has been equally devoted to acting and playing music. He received his BFA in acting from the University of the Arts in Philadelphia. He was a company member of a repertory theatre in philadelphia for 3 years and he developed a solo show about the life of Woody Guthrie which he has performed in many venues. After playing the lead role in JoAnne Akalaitis' "The Rover" at The Guthrie Theatre he moved to NYC because he landed his first off broadway role in what became the hit musical "RENT".
     For over a decade Jesse has made his living as an actor. He has worked at many of the best New York theatres as well as many of the best regional theatres. He has worked in TV, Film, and in the world of Voice overs. Some of his favorite theatre roles have been Billy the Kid in "The Collected works of Billy the Kid" by Michael Ondaatje at The Dallas Theatre Center, Jewel Estes in "Floyd Collins" at Playwrights Horizons in which he is featured singing the ballad of floyd collins on the Electra/Nonesuch cast recording, Susuan-Lori Park's "FUCKING A" at The Joseph Papp Public Theatre, "Wings of Desire" a staged adaptation of the film by Wim Wenders, a co-production between The American Repertory Theatre in Cambridge, Boston and the Dutch theatre group Toneelgroep Amsterdam, for which Jesse was both an actor and wrote music.
     An experience that inspired Jesse deeply to continue to follow his two paths of music & theatre was getting to work with two of his idols Sam Shepard and T-Bone Burnett on the world premier of "The Tooth of Crime: Second Dance" at The Lucille Lortel theatre in which Jesse got to give the premiere performance of the song "Kill Zone" (a song written by T-Bone that Roy Orbison was going to record but never got the chance). When Jesse showed many of his demos and half finished songs to T-bone he said "…you've got lots of great stuff…now you've just got to finish them". Jesse took T-bone's words of encouragement to heart and has self-released Four Albums, most recently: "Son of a Cactus Farmer" (and he has easily written enough material for many albums to come).
     In 2007, after having worked with Stephen King and John Mellencamp on their musical "Ghost Brothers of Darkland County" Jesse was invited by Mellencamp to open Farm Aid 2007 which was held in NYC at Randall's Island. One of the highlights of Jesse's life was to get to sing his song "I'm Not The Only One" while standing on stage with Willie Nelson and John. Subsequently Jesse played at Farm Aid 2008, 2013, 2014 and has enjoyed getting to be a part of such an amazing community of artists who are working for such a great cause as Farm Aid.
     Whether he is singing a heartbreaking love song at one of the coolest singer/songwriter spots in NYC or Brooklyn, or picking a foot stomping guitar ditty, Helping to lead a square dance march for a protest,or playing a strung out street thug on t.v. above all Jesse is a storyteller with a keen sense of observation and the heart and ability to make any story soar. Recently Jesse was featured in "As You Like It" for The New York Shakespeare Festival in Central Park in which Jesee played the role of Amiens and led a roving band of musicians (along with legendary banjo player Tony Trischka) singing bluegrass ditties written by Steve Martin & Shakespeare of course! They were wonderful collaboraters!
     Upcoming: Jesse is featured as AJ on all 3 Seasons of "Sneaky Pete" on Amazon.